January 15, 2015
Thursday 15th January 2015 – 14.45
Gold: XAU/USD increased more than 1.5% today, currently pushing above its 200 DMA at $1252 as investors react to news that the SNB would no longer shield the Swiss Franc abandoning its ceiling against the euro in turn distressing the global markets. The Swiss franc initially soared almost 30 percent on the news, which caught global markets by surprise. Gold is now about 8.7 % above its November low. The fact that gold has risen in conjunction with the rallying dollar signifies that gold price is now up in all major currencies usually suggesting considerable underlying strength.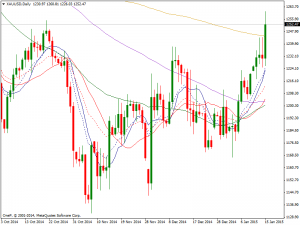 Silver: A weak trend in global markets this morning led to the drop in silver prices at futures trade but improved in the European session taking cues from gold after the SNB dropped its floor on the EURCHF leaving markets in a panic. XAG/USD added 42 points to trade at $17.030 and if we can get above the $17.50 level, it would in fact be a bit of a break out in our opinion.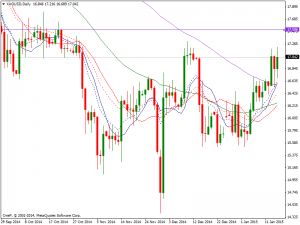 WTI: Oil prices are currently flying higher, strengthening despite OPEC forecasts of weaker demand for oil this year. WTI rose during the course of the day yesterday, breaking the top of the hammer from the previous session. Thus this market is now testing the $50 handle, an area that of course is a large, round, psychologically significant number that should attract a lot of trade flow. However, if we can get above the $50 level we feel that this market will then head to the $55 level.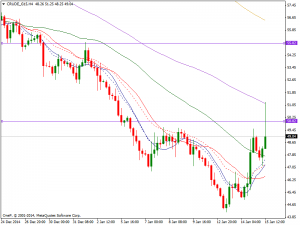 BRENT: The Brent markets broke higher, clearing the top of the hammer that had formed this morning, testing the $52 level for resistance. If we can get above $52 level going forward, we could go as high as $58 next.