January 9, 2015
Thursday 9th January 2015 – 12.55
Commodity price action has been halted as focus turns to the announcement of the non-farm figure.
Gold: Gold went back and forth on Thursday effectively displaying that we are fixed between the $1200 and $1220 level. Given downside support of $1204 has recently been tested and held it's probable a move above 50 in its RSI will point towards a retest of upside resistance at $1220. Due to this its very likely that Gold will remain in a fairly tight range, keep in mind that the nonfarm payroll number will certainly have a massive effect on the US dollar, which of course will move this market.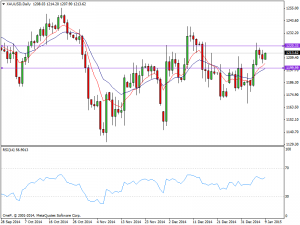 Silver: Silver prices have retreated from their short term highs of $16.71 currently trading at $16.25 following a bullish rally in the dollar which has narrowed the need for safe haven assets. Silver fell slightly during the session on Thursday as the $16.50 level offered resistance. The downside move has seen silver again slide back into a level which was previously a period of consolidation between $16.29 and $15.74. These two levels will however now act as areas of both support and resistance.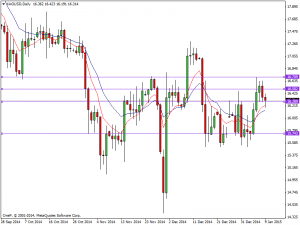 WTI: WTI is currently trading at $48.71 after touching a short term high of $49.62. However a risk to WTI is likely to be seen following announcement of NFP. Prior to the release, the moving average is capping any upside gains at $49.01 and should the level continue to hold a retest of $46.84 is possible. A break above the moving average however, could trigger a move above long-term support of $49.39.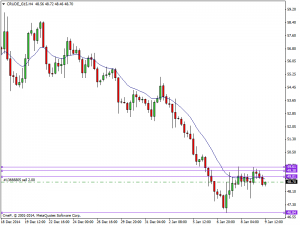 Brent: Brent prices have begun to strengthen around the lows, resulting in a visibly defined band of support and resistance between $49.93 and $51.53 both of which are clear areas of support and resistance. A catalyst for a breaking of either level is likely to be seen after the NFP report. A break below the $49.93 level is likely to lead to a fresh low of $49.16 supported by a 44 reading in its RSI. Should downside resistance hold, a retest of $52.26 could be brought into play.