January 6, 2015
Why has the price of oil declined so much?
From the end of June 2014 to the end of December 2014 the price of oil has declined by almost 50%.  Since the start of 2015 we have declined further, sitting at around $49 at the moment on WTI oil.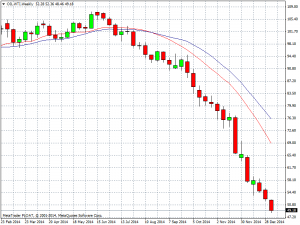 But why has the price fallen so much?
Some people have focused on shale oil and some on Saudi Arabia, where there are conspiracy theories that the Saudi's have decided to crash the price of oil to get at one of its enemies Iran, under the instructions of the USA.  Some have said it is to get at Russia as well, for the support Russia has given to Assad, all very political.  With the decline of the Russian economy, conspiracy theorists have been in full flow where they are speaking about the Saudi's, under the US' instructions letting the price fall to shake Russia even more in this time of turmoil.
However, on a closer look these theories may be misplaced.  Conforming to basic economic theory for the price to fall there needs to be an increase in output.  Over the period of this price decline from June, the Saudi's have not really increased their output.  So this would not make sense that the Saudi's are trying to drive the price down.
The more likely cause of the price decline is a fall in demand.  World GDP forecasts have been declining over the last 6 months.  A key country here is China.  The Chinese economy has slowed, especially manufacturing.  The fall has been going on since then and the largest drop was seen when OPEC announced it would not cut output.  Many traders were predicting that OPEC would cut output to support the oil price during the period of falling demand, but they didn't and this really accentuated the price decline.  Now it almost seems many traders are afraid to buy oil, especially now we are below $50.  It is thought the Saudi's can sustain a price of $40, which looks like where the market is trying to head to.
The turmoil in Russia is a side effect of the oil price decline and more down to larger economic developments that have happened there.  By the price coming down so much, it obviously also affects the Saudi's economically, but seeing their rivals suffer is some consolation.
The price decline may still continue for the near future but by April 2015 time  i would expect prices to start rising again to higher levels.